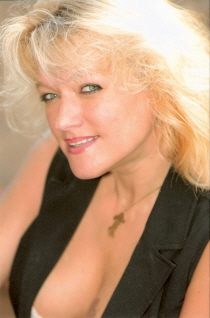 --narration by Tony Pomykala
If memory serves me correctly, this frozen creek and it's waterfall was somewhere around Duluth, MN between the city and the Canadian border. It was right alongside the highway, and it's beauty attracted us. Tommy was inspired, and narrated some "off the cuff" ad libbing. He has a true gift for psuedo-historical story telling. Just wait until I post our "Devil's Monument" clip. It's hilarious. So, too, is this clip.
The opening moments are of an incredible view of a lighthouse on Lake Superior, followed by the sound of a snowball (thrown by Tommy) narrowly missing me (Tony) and thudding against our tour van. After that, we stopped to see the frozen creek. If you turn up the volume a little, you can hear Tommy letting me know the girls are getting restless, and our opinion of their complaints (wink!).
SassySandi.com
Videotape highlights from touring with the Chicago Knockers.
Click for the homepage or your
back to the Chicago Knockers Scrapbook.
Click to return to the Video Directory.
Ice Falls - Tommy tells it like it is- April 1982 -Downloadable 27.9 MB