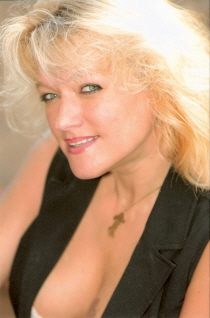 --narration by Tony Pomykala
In this clip, the Knocker girls are at our "meeting" place in Lansing, Illinois. In those days, all of us met at the Holiday Inn at Torrence Ave. and Interstate 80/94. We parked in the hotel lot, and boarded the Knocker's Limo and our equipment van to set out on tour.
This clip opens with a shot of the Chicago Knockers logo of that time period, the "Knockers with Eyes", and then the panel on the side of our limo letting everyone know who we are.
After that you see a great shot of The Bodacious Beauty (Virginia). She had some great eyes, didn't she? Next up is China Doll (Shin). Boy it's smokey in there, isn't it? Sassy Sandi (Sandi) and Snake Lady (Yvonne) are attempting to crochet while we are waiting for one of the girls to arrive for tour. Tazmanian Devil (Sabra) leans forward to see what's in the magazine that the 2 girls in the front seat are reading. I think the one holding the magazine is Sweet Seducer (Sue). They are looking at the pictorial from our Oui Magazine spread that was released for sale that very morning. Suddenly I'm bit by the venomous words of the Snake Lady (giggles). As I start to pan the camera across the length of the limo, Snake Lady teases me yet again (but alas, she never kept her word on that promise...)
Next up is my partner road crew member, Mark Pena.
(Nowadays Mark is the Master Popper of AztecKettleKorn of Maryland - check out his website). This guy is an all around class act and great guy, a volunteer firefighter, too! Buy some popcorn from him, he ships direct to you! Can't you smell the butter yet? My mouth is watering!
SassySandi.com
Videotape highlights from touring with the Chicago Knockers.
Click for the homepage or your
back to the Chicago Knockers Scrapbook.
Click to return to the Video Directory.
The Knockers are getting ready to leave on tour the day Oui Magazine is released - Lansing, IL Holiday Inn parking lot 1981
-Downloadable 39.8 MB