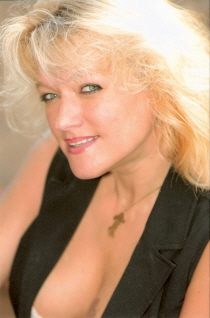 --narration by Tony Pomykala
This home video clip was taken in 1982 at the Badlands in North Dakota. Part of the fun of touring is seeing the sights, and we tried to see as much as we could, any chance we got. I gotta tell you, the Badlands in North Dakota seem a lot more dramatic than their counterparts in South Dakota, from what we saw.
First in this clip is China Doll (Shin), Baby Bomber (Christy), Iron Maiden (Virginia) and Scott (road crew) checking out the edge of the overlook.
Next we see Little Annie, Tommy, Wild Thing (Rene), and Madame X (Beth) sitting on the rail above a sheer drop-off. Crazy aren't they?
Then a little scenery, and China Doll joins the rail sitters while Baby Bomber walks toward me. We then take our leave for more Badlands scenery.

SassySandi.com
Videotape highlights from touring with the Chicago Knockers.
Click for the homepage or your
back to the Chicago Knockers Scrapbook.
Click to return to the Video Directory.
The Chicago Knockers visit North Dakota's Badlands 1982-Downloadable 31.5 meg