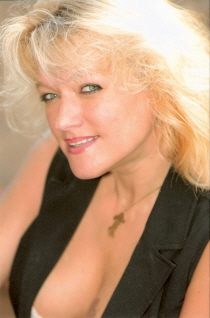 --narration by Tony Pomykala
This home video clip was taken in Toronto, Ontario, Canada in early 1982. We were there to do a show at a club called "Spurs" in January.
A popular TV show wanted to do a segment on us, and came to our hotel to film the Knockers do some training for the night's upcoming matches. Well..... since we didn't normally train while on the road we had to come up with something on the fly, to give the TV show something worthwhile to air. So... here you have it.
In this clip MC Tom Sailor leads our girls in calisthenics from the hallway in our hotel. The TV crew is there to film, as well as the hosts of the show (who are they and I'll give credit -PM Magazine?).
The wrestlers include Baby Bomber (Christy), Windy City Woman (Debbie), Taste of Honey (Connie), Tazmanian Devil (Sabra), Midnight Angel (Debbie), Sterling Silver (Sonja) and Sassy Sandi.
Also in the clip is Connie's brother Carl (road crew) wearing our "Canada Tour" T-shirt.

SassySandi.com
Videotape highlights from touring with the Chicago Knockers.
Click for the homepage or your
back to the Chicago Knockers Scrapbook.
Click to return to the Video Directory.
Behind the scenes filming of TV crew filming a workout. - Taken in Toronto, Ontario, Canada 1982 -Downloadable 35.1 meg