Chicago Knockers
historical roster
Awesome Annie
--Annie
Baby Bomber
--Christy
Blazing Angel
--Crystal
Blonde Bombshell
--Cathy
Bodacious Beauty
--Virginia
Brown Sugar
--April
California Kid
--Margie
China Doll
--Shin
Delta Dawn
--Dawn
Devious Dawn
--Dawn
Dreamboat Annie
--Annie
Ebony Eyes
--Roberta
Fantasia
--???
Fiesty Fifi
--Felicia
Fiesty Fiona
--Fiona
Firefox
--Lynn
Golden Fox
--Brenda
Golden Fox
--Marilyn
Golden Girl
--Nancy
Hurricane Blondie
--Dana
Italian Stallion
--Marilyn
Iron Maiden
--Virginia
Kamikazi Kid
--Denise
Killer Elite
--Donna
Killer Elite
--Anita
Lady Luck
--Liz
Leather and Lace
--Julie
Leather and Lace
--Kelly
Leather and Lace
--Tracey
Little Miss Vixen
--Carol
Luscious Lisa
--Lisa
Madame X
--Beth
Mama Knockers
--Lynn
MC Tom Sailor
--Tommy
Midnight Angel
--Brandy
Midnight Angel
--Debbie
Misty Blue
--Jonna
Misty Blue
--Melinda
Nasty Nancy
--Nancy
New Jersey Rose
--Cyndie
Nighthawk
--Mary Beth
Peaches 'n Cream
--Nancy
Pink Champagne
--Kelly
Raging Apache
--Monica
Rocky
--Rocky
Rockin' Robin
--Robin
Sassy Sandi
--Sandi
Satin Doll
--Chrissie
Snake Lady
--Yvonne
Sterling Silver
-Sonya
Strawberry Shortcake
-????
Superstar
--Lisa
Super Bitch
--Debbie
Sweet Seducer
--Sue
Taste Of Honey
--Connie
Taste Of Honey
--Patty
Tiny Terror
--Anita
Tiny Terror
--Candy
Tiny Terror
--Kathi
Tiny Terror
--Terri
Tazmanian Devil
--Sabra
Touch of Class
--Patty
Warrior, The
--Diane
Wylde Fire
--Melanie
Wild Thing
--Renee
Windy City Woman
--Debbie
Wrangler
--Karen


My memory has faded on some girls/names so help me out:
What were the stage names of:

Karen (DC Tour)
Nancy Lynn:
Sherry:
Candy
Randi
Rosa:
Roslyn: Indian name?
In the early 1980's I was a member of the popular women's mud wrestling team called the Chicago Knockers. My stage name was Sassy Sandi. We were a travelling female entertainment group that played shows all over the United States, Canada, England, and Puerto Rico. Our troupe usually consisted of 8 girls on each tour, and we always had a tag team celebrity match with a local star or famous personality. We even wrestled movie stars, sports heroes, politicians, boxing title holders, radio DJs, and television anchormen. TV people were great at making news! Not only did we play local bars, but also county fairs, state fairs, festivals, a few clubs, and other sites and places. We were a family show, first and foremost, and one of the true original pioneers to the genre of womens mudwrestling.
Started by Lynn Brown (Mama Knockers) and Master of Ceremonies Tom Sailor to play local Chicago nightclubs, the team quickly grew into a worldwide phenomenon, with the astute help and guidance of agent Mick Scully (Capitol International Productions, Inc.), and promoter George Moffett (Variety Attractions).
I also want to give a special recognition to the woman who designed and created many of our fabulous costumes that we wore on stage, Darlene G. She was our Office Manager, and a big inspiration as well!
Attention Knocker Alumni: Join us on Facebook! The Chicago Knocker Alumni group. We had our first reunion (in 25 years!) in Georgia. We will have many more!!

The second Chicago Knockers Team Photo 1980

from left to right:
Golden Fox (Marilyn); Peaches 'n Cream (Nancy); Snake Lady (Yvonne); (Carol); Killer Elite (Donna); Sterling Silver (Sonia); Delta Dawn (Dawn); Hurricane Blondie (Dana); Sassy Sandi (Sandi); Blonde Bombshell (Cathy); Taste of Honey (Connie); Fiesty Fifi (Felicia); Super Bitch (Debbie); Misty Blue (Melinda); China Doll (Shin); Baby Bomber (Christie)

"Show me your Knockers!"


(Send me your

Chicago Knockers

photos!!
)
If any of you out there have any great photos to share of the Chicago Knockers please send them to pics@sassysandi.com and if appropriate I'll post them here on this scrapbook page and give you photo credit.
Even better: If you have 6 or more pictures of a particular wrestler (at least 2 in wrestling action), I'll create her own page for her here.
"Chicago Knockers: Mud Wrestlers" by Frank Fortunato

"Oui" Magazine - December 1981
China Doll: The Ming of Munge
Mama Knockers: Mudville's #1 Ringmistress
Golden Fox: Grime-Gripplings First Superstar
Peaches 'n Cream: Lifting, Lunging Lolita of Loam
Sassy Sandi: Strong, Sultry, and Saftig
The Chicago Knockers show has been reincarnated new for the next generation! The American Knockers are retaking the stage front and center.

If you are interested in booking The Chicago Knockers/American Knockers for the upcoming tour or beyond, please contact Mick Scully at Capitol International Productions, Inc. by phone at 800-770-0030 (Chicago Office). PLEASE tell him Sandi of SassySandi.com referred you! (wink!)

For more information on the all new Chicago Knockers,
visit the
Official websites:

www.ChicagoKnockers.com

and

www.AmericanKnockers.com




The third Chicago Knockers Team Photo 1983

from left to right (Top):
Rockin' Robin (Robin); Raging Apache (Monica); Luscious Lisa (Lisa); Super Bitch (Debbie); Madame X (Beth); Firefox (Lynn); Baby Bomber (Christy); Sweet Seducer (Sue); Ebony Eyes (Berta); Taste of Honey (Patty); Tiny Terror (Anita); Sassy Sandi (Sandi); Midnight Angel (Debbie); Mamma Knockers (Lynn); Nighthawk (Mary Beth)

The fourth Chicago Knockers Team Photo

This team photo was sent in courtesy of
Chuck Caponi, D&D Sales, Mason City IA.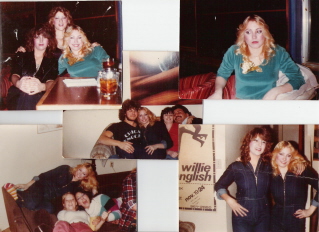 Upper Left:
Sweet Seducer (Sue); Tazmanian Devil (Sabra); Windy City Woman (Debbie)
Upper Right:
Windy City Woman (Debbie)
Lower Left:
Windy City Woman (Debbie);Peaches `n Cream (Nancy); Midnight Angel (Debbie)
Lower Right:
Sweet Seducer (Sue); Windy City Woman (Debbie)
Middle:
Road Crew "Mudman" (Tony); Windy City Woman (Debbie); unknown; unknown

All above photos circa 1982, taken around Toronto, Canada, provided by Tony Pomykala

The Original Chicago Knockers
Team Photo 1979
from left to right:
Golden Fox (Marilyn), Snake Lady (Yvonne), Little Miss Vixen (Carol), Sassy Sandi (Sandi), Golden Girl (Nancy), China Doll (Shin), Nasty Nancy (Nancy), ?? (Mary), Bodacious Beauty (Virginia)

High Times Magazine catches the Knockers at Madison Square Garden in New York City (1981)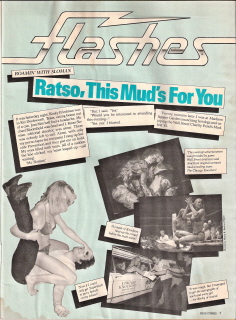 In October 1981, the Chicago Knockers made an appearance in High Times Magazine.
Misty Blue claps in the middle photo, and Super Bitch wrestles Ratso.
In the Knocker's limo, Sterling Silver watches Ratso pulling on Super Bitch's arm as he is being pulled by road crew Mark Peña and Tony Pomykala. Looking on is Hurricane Blondie and Sassy Sandi.

Madame X

(Beth)


Tazmanian Devil

(Sabra)

A women's mud wrestling match turned into a brawl involving 500 patrons after a spectator tossed the emcee into the ring on a $50 bet, the authorities said today. (click title for whole story)

The story above happened in Gillette, WY at the Boothill Club and made national newspapers, much to our surprise, including the New York Times (above). The emcee mentioned was in fact our Tom Sailor.